How it works
Lunar Eye has extensive options with the ability to scale. It can run on commercial cloud providers such as Amazon AWS, Microsoft Azure, or on your own private cloud. We use our own proprietary algorithm to power our AI engine.
Lunar Eye's infrastructure also includes the following components:

Video cameras
connected through the internet (IoT devices)

Sensors
connected through internet IoT devices

Web-based
management and monitoring

Mobile App
with integration into a management system

Scalability
for computing units, cameras, sensors, and data storages
Features
Visual Monitoring and recognition features:
Face detection and recognition
Person identification
Identification of objects defined by uploaded photo
Areas of interest, monitoring for objects appearing, or unexpected activities
Identification of an object's parts defined by the user (hat, glasses, mustaches, etc)
Detection of vehicles and boats with defined color
Vehicle's brand detection and recognition
Emotions detection (Anger, Disgust, Fear, Happiness, Sadness, Surprise)
Identification of sex, race, and age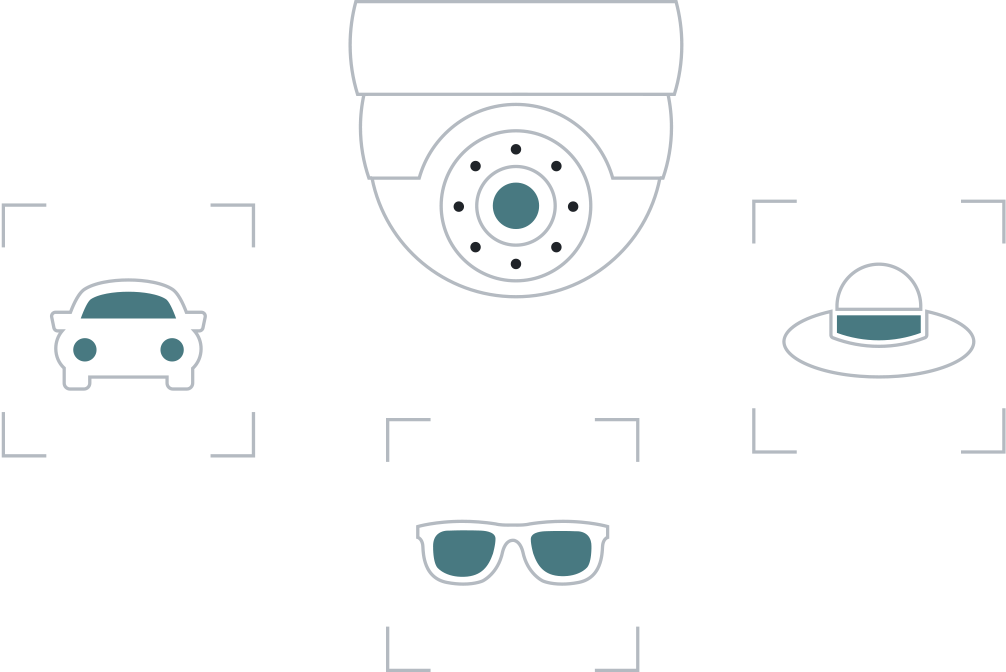 Tracking of moving objects and alerting for defined situations
Objects behavior identification including movements of object's parts
Alerts generation based on identified objects and events
Reaction on alerts (sending information to email and/or phone call with a dynamically generated voice message)

Subjects management:

Known subject — subject created by user with uploaded photo and name
Unknown subject — subject created by the system each time it detects a new face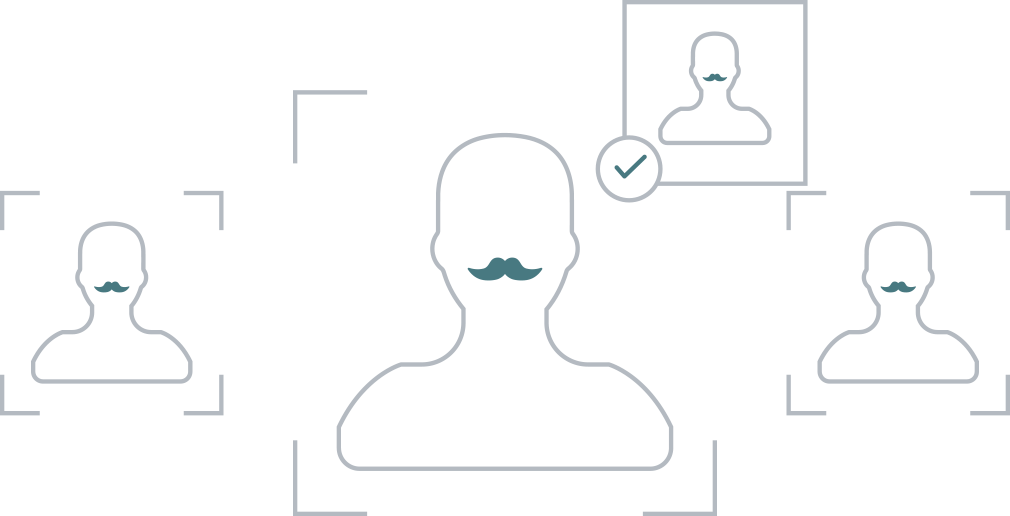 Dashboard
Camera stream — display live stream from selected camera
Camera screencast — display screencast from selected camera
Latest alerts — display last 24 hours alerts per selected camera
Widgets configurations
Cameras management and Camera view
Camera live stream
Saved videos per camera
Live alerts
Recent alerts stored for the last 24 hours
Supports all video formats from computer video camera, IP video camera or drone camera format
Video storage system
Event storage system
Recognition management
Alert system
Additional features
Devices management and placement mapping
Monitoring of data processes and events
Data processing scenario configuration
Reporting all incoming events
User profile management
Analytical data and information presentation
Lunar Eye Application
Security systems
Manufacturing
Smart Cities
Transportation and storage
Retail
Sport activities
Security systems (including smart home solutions)
Video surveillance video stream analysis and real-time decision driven actions
24/7 home or corporate monitoring
Counting objects and identify illegal entries, crowd gatherings, animals, cars, and objects left behind
Identification of a person's face, sex, gender, age, etc.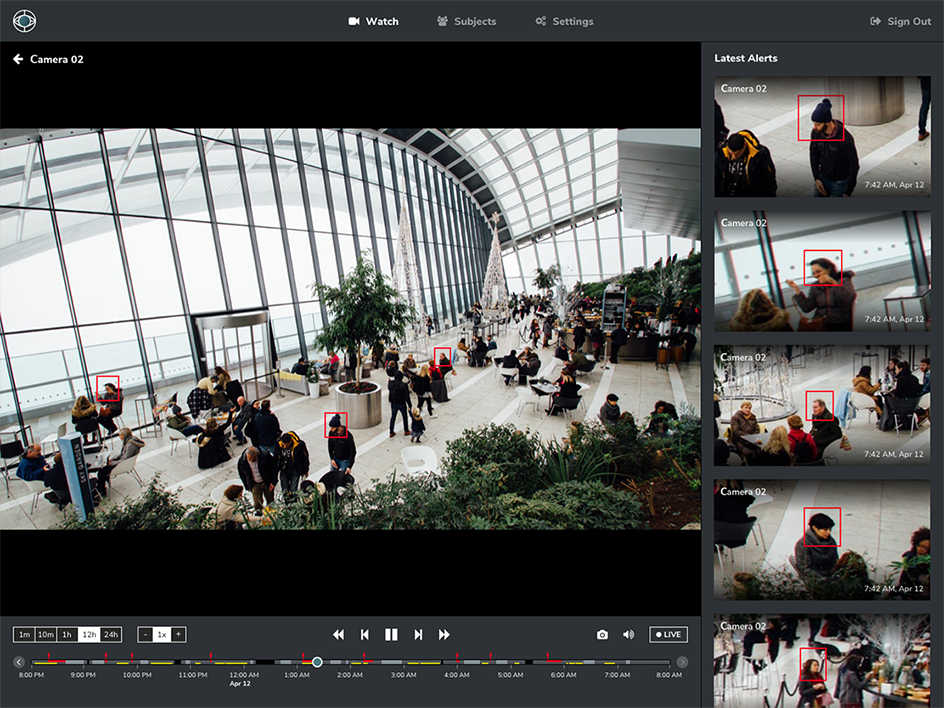 Manufacturing
Verifying state of any mechanical system, people movements, and gestures in real-time
Control and monitoring of workspaces, moving elements
Monitoring of production lines identifying shortcomings: incorrect shape, weight, size, etc.
Non-invasive quality inspection (when specialized video cameras are used) for comparing output with expected outcome or baseline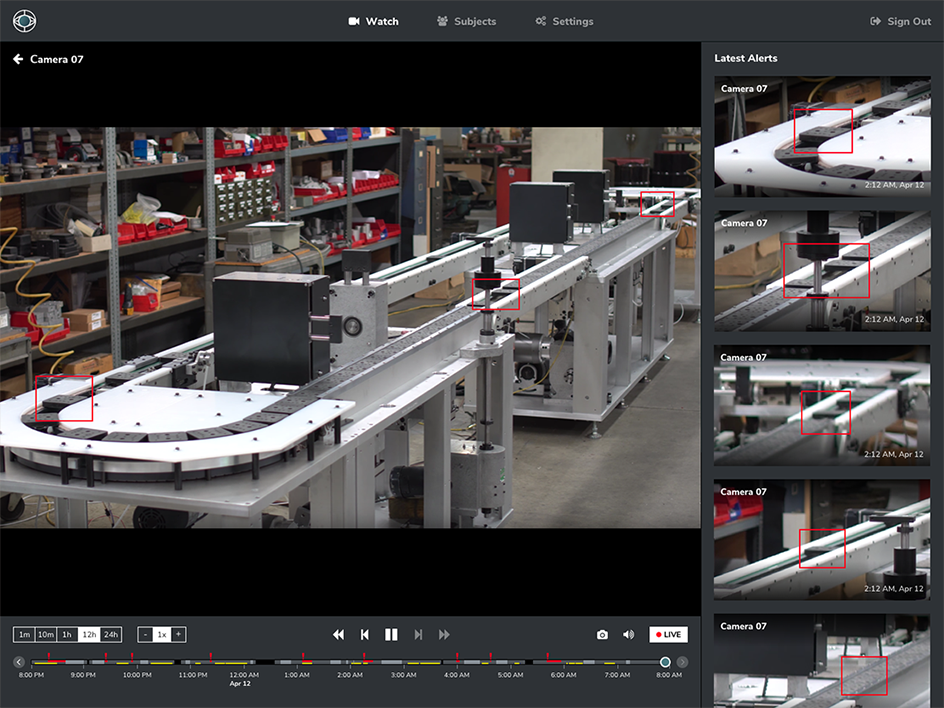 Smart Cities
Security and monitoring streets
Identification of defined activity
Predicting movement trajectory with real-time alerts
Detecting, tracking and vehicle counting, speed tracking, and identifying vehicles types
Tracking / recognition vehicle license plate and real-time traffic violation or accidents
Congestion data: queue length, flow rates, etc.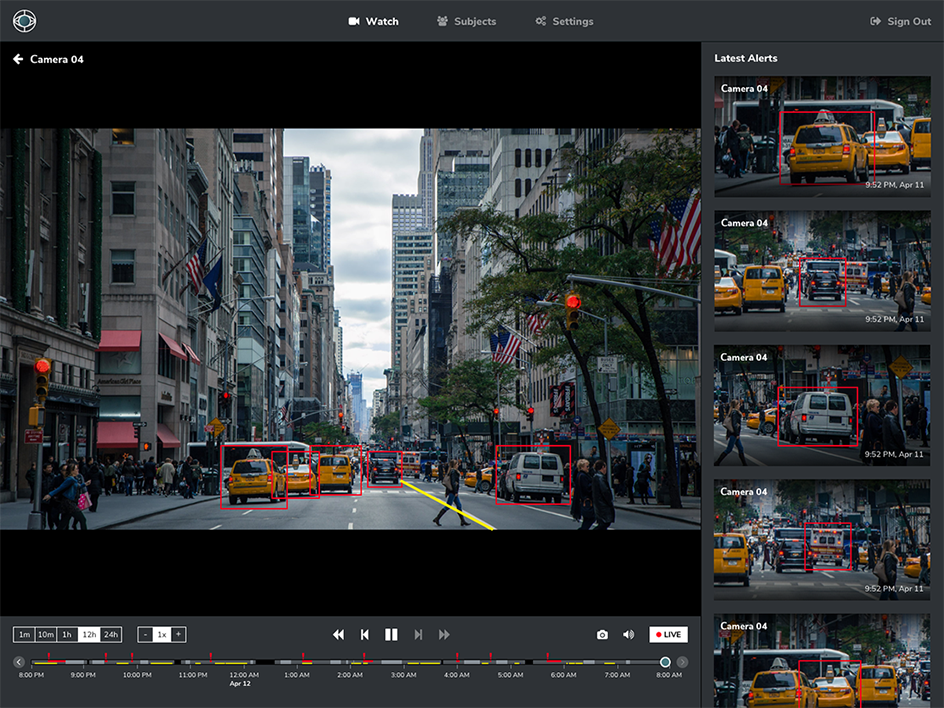 Transportation and storage
Visual monitoring seaports, container terminals, and production sites
Area control calculation in square feet
Volume calculation and bulk cargo storage usage capacity estimation
Track line based Camera Vision quality assurance (cracks, breaks, debris)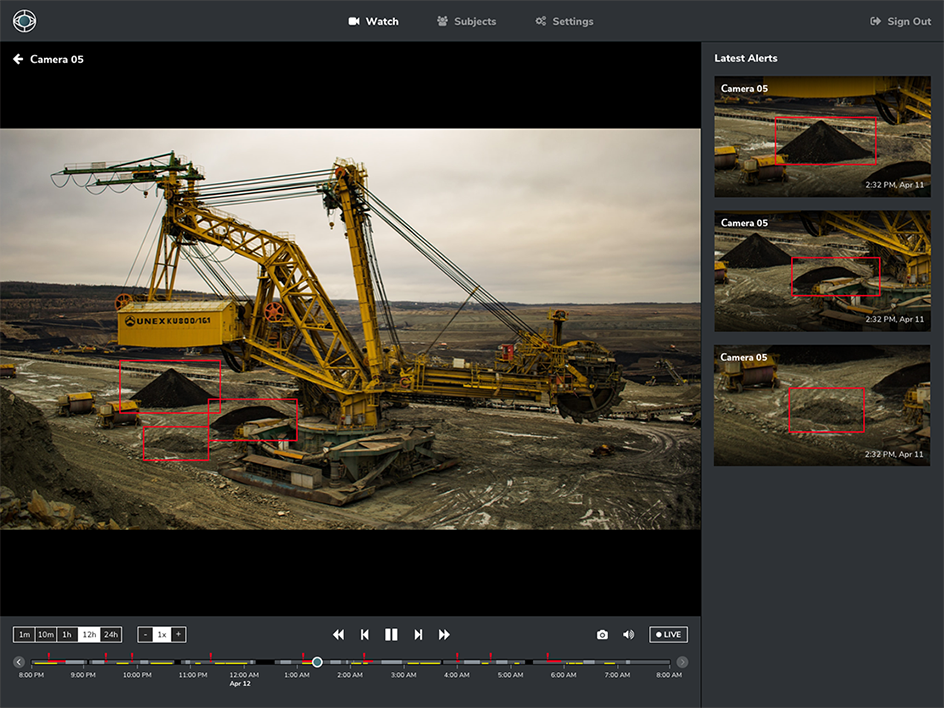 Retail
Retail physical security and monitoring enhancement
Retail process automation
Automated Processing "on the go" for registered users
Calculation and identification of purchased items forms final receipt
Buyers behavior analyzation in theft prevention app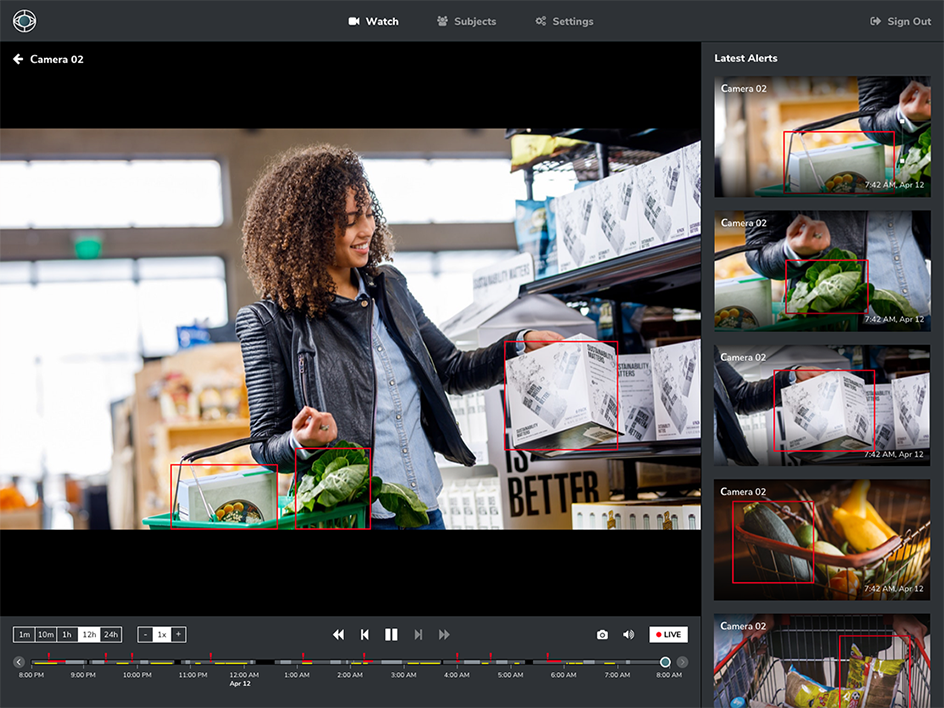 Sport activities
Tracking athletes (custom statistics provided)
Analyzing player in game influence and on-field time presence: expected goals, successful entries, failed passes, etc.
Wingers and forwards face identification
Ball tracking and speed calculation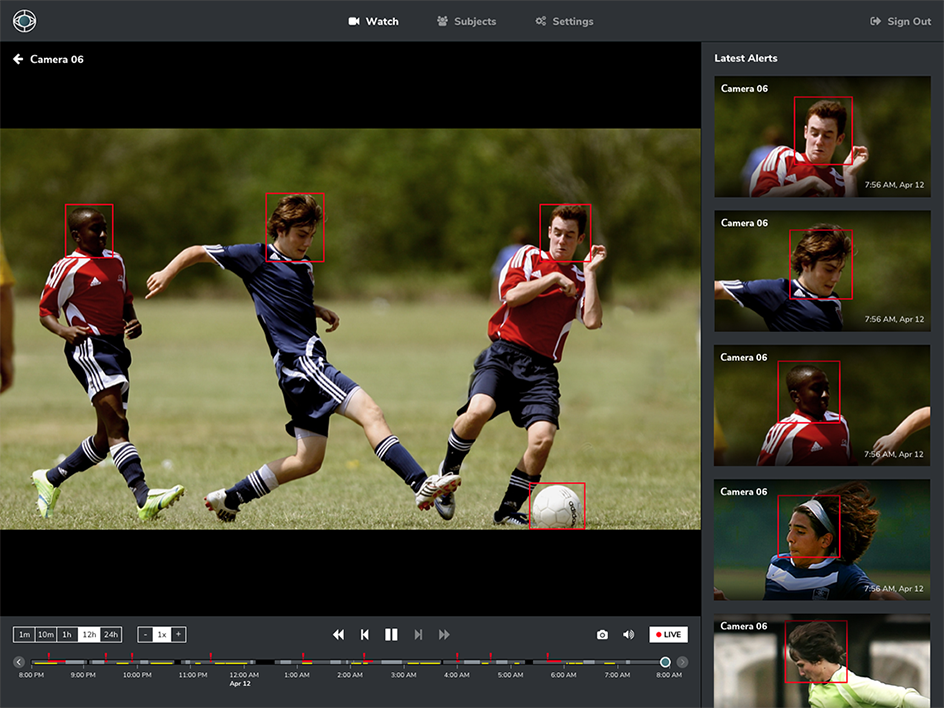 Pricing Structure
Our pricing structure can easily be tailored to your needs. One-time setup fee and subscription fee (monthly/quarterly/annual).
System Setup will include the following:
Requirements review
Server configuration assistance
Identification and customization based on clients needs
Complete system validation by Lunar Eye prior to launch
Walk-through and system training by Lunar Eye mavens
Subscription fee on monthly/quarterly/annual basis includes:
Dedicated 24-hour system support
Email support
Chat support
Webinars
4 system updates per year
Contact us for platform adoption and customization.
Why choose us?
Flexibility
We always focus on your business needs and provide solutions that can be used with minimal customization required.
Scalability
Unlimited connected devices — can easily handle large data sets.
Manageability
We combine different data sources and provide essential management actions in real time.
Versatility
Lunar Eye platform supports a variety of cameras and IoT. For a full list of supported devices — contact us
Hosting Options
Private Cloud, AWS, or Azure. The customer decides.
Security
Lunar Eye uses the latest frameworks and meets ISO/IEC standards — your data is safe with us.
About Us
When it comes to Data Analytics and Computer Vision — the application of Artificial Intelligence (AI) can open many opportunities in the transformation of various processes where privacy and security are paramount.
We modernize IT Infrastructures according to compliance & security first and foremost! We expand upon data sources & data quality with the latest IoT technologies, the latest Data Science technologies, Computer Vision, Chat Bots, Hardware, and our pioneering experience with Blockchain.
This has led to our use of Camera Vision technology not as a device but a platform for all loT products and services. Lunar Eye increases capability with dramatic results while enhancing experiences and significantly improving business process all at a fraction of a cost.
Our team of Computer Vision disciples with over 15 years' experience has prepared us to become leaders in this nascent field of technology. Our team of experts are ambitious leaders in Data Science, DevOps, Analytics, Machine Learning, Engineering, Computer Vision, and Security.